We've always had a passion for the environment and much of our inspiration is quite literally drawn from nature. Our environmental journey started back in the mid 90s, in Glebe Cottage, when we switched to the exclusive use of 100% recycled envelopes. The logic was simple; why cut down trees to make envelopes that will only make one journey before they are ripped open, screwed up and thrown away?
We have moved on a long way since then. We were the first greeting card publisher to switch to compostable packaging back in 2006, and the first direct-to-retail publisher to obtain FSC® certification. In 2008, we became the UK's first CarbonNeutral® greetings card company and won Gold for environmental best practice in printing and publishing at the Green Apple Awards. We also scooped top prize in the product category at the BCE Environmental Leadership Awards in 2010. Click HERE to see our video on Youtube. We are always looking for ways to minimise our environmental impact - even the laminate we use on our photographic notecard wallets is compostable.
We like to re-use packaging so you may find that your cards are sent with bubble wrap to protect them, or some other type of packaging - if this is the case it's because we are re-using material we have been sent!
We are not experts on green issues and we know we are not perfect. But we are very positive about the future because we believe consumers can change the way that businesses think about the environment. In essence, everyone can help to make the world a little bit greener, even if it is just one card at a time!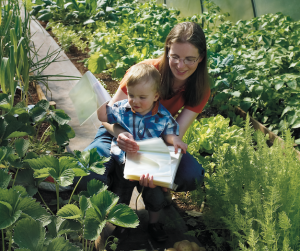 Our first compostable bags back in 2006.
Our Eco-commitments
Everything is FSC® certified… We were the first direct-to-retail publisher to attain an FSC chain of custody (2006). Responsible forest management ensures that the harvest of timber products maintains the forest's biodiversity, productivity, and ecological processes. It's the only certification scheme endorsed by WWF, Friends of the Earth & Greenpeace. Our Chain of Custody Number is NC-COC-005535 BN. The license number you see on our products is FSC-C007915. Every item listed on this website is FSC certified.
Unless it's 100% recycled… As well as the use of FSC ® certified materials, all of our cards have a recycled content. We specify the percentage of recycled paper on the back of the card. Most of our cards are 50% or 100% recycled post-consumer waste. We even have some cards made from 50% recycled coffee cup waste!
100% recycled envelopes... Since the mid 90s we have exclusively used 100% recycled paper envelopes. We only use paper containing post-consumer waste and most of it is made in the UK.
Alcohol-free print... Industrial Alcohol is a solvent used by printers and is the industry's main source of hazardous VOC emissions. Since 2010 all of our cards and brochures have been printed without the use of any alcohol at all.
Vegetable based inks... We only use vegetable-based inks. Replacing the 'mineral-oil' in inks with vegetable-oil (typically made from soy-bean or linseed) reduces VOC emissions. Recently the use of vegetable based inks has become more widespread.
You can recycle it... We ensure that everything we make can be easily recycled, so we don't use foil, flitter, glitter or oil-based laminates on our stock products.
Compostable bags... We became the first card company to use compostable bags back in 2006. Every bag we use is made from corn starch, and is certified as compostable in industrial composting conditions. (standard EN13432) Most greeting cards are still wrapped in polypropylene, (an oil-based plastic) which UK consumers can't recycle. We never use degradable OPP bags which just break down into tiny pieces of plastic, but don't compost.
Made in the UK... It would have been easy to manufacture our products half way around the world to increase profits... but at what environmental cost? We live in the UK, as do most of our customers, so we have always printed and manufactured everything we make in the United Kingdom.
Green energy... All of our offices are powered by Green Energy. Most of our cards have also been printed using Green Energy.
Carbon Zero... We offset our carbon emissions via CO2 Balance and their African stove project- which is also great for the local communities. www.co2balance.com